SPE-201 COMParative eConomic sYstems
Often political-economic or economic analysis is focused on particular institutions within a system, or is a general history of an economy during a particular period. In this subject the approach is instead to analyse different types of economy from a systematic perspective. In other words, we analyse the economy as a set of interacting and interdependent institutions that – to a greater or lesser degree – form a coherent whole. This subject examines both theoretical and actual systems, including Social-Democratic (welfare state) Capitalism, Neoliberal Capitalism, Command Socialism, Market Socialism and Development State Capitalism. Applied case studies include Sweden, the United Kingdom, China, South Korea and the former Yugoslavia. We also examine proposed economic systems including Green Growth, Green New Deal, Steady-State and De-Growth systems. The subject is designed to complement the subjects SPE101 An Introduction to Political Economy and Economics, and also the World Economy Since 1900. Prior study of at least one of these subjects is recommended.
DETAILED information About the subject
Design: This subject is taught in 'flipped classroom' mode whereby you first view an online lecture, then undertake some set reading and then participate in a weekly 90 minute tutorial discussion (with a short break at the 45 minute mark). The lectures and readings are all downloadable and can be done whenever you like. The lectures can either be viewed, or simply listened to as podcasts. You can choose from either a face to face or online tutorial. If you want to occasionally switch to online tutorials (or vice versa) this is usually possible upon request.
Dates and times
Tutorials start Tuesday 21st of July 2020, 6.00-7.30pm (face to face tutorials) and Wednesday 22nd July 6.00-7.30pm (online tutorials).
The subject runs for 9 weeks and concludes Tuesday 16th September (face to face) and Wed 17th September (online)
All times above are Australian Eastern Standard Time. Please bear this in mind if you are outside of Melbourne/Australia, noting daylight saving time change in both locations. If the online tutorial occurs at an impractical time for you, please let me know what time(s) would suit you so in the event that we get enough enrolments for a second online tutorial I might be able to hold that tutorial at a more convenient time for you.
Location: This semester we have a splendid space at Prosper Australia. Level 1, 64 Harcourt Street North Melbourne VIC 3051. Parking should be available and it is accessible via public transport. For those choosing to attend the online tutorial the location is anywhere in the world where there is a reliable internet connection.
Cost: AUD$240 (waged), AUD$170 (unwaged).
Payment: On receipt of your registration, we will invoice you. Payment is usually undertaken by electronic funds transfer. Payment of the invoice is due 14 days before the commencement of each subject.
Refunds: If you attend the first class and find that for some reason it is not what you are seeking then we can provide you with a full refund provided that we are notified within 7 days of the first class.
Assessment: There are regular questions and answers to allow you to self-test your knowledge, but the results of such self-tests are only available to you. Tutorial discussions are also a great opportunity to test and clarify your ideas.
Consultation: If you need help with any of the material you are very welcome to ask. We can talk to you before, during or after class, via phone, email or Skype/Zoom.
Accreditation: The purpose of the course is to provide you with a high-quality, accessible, university-level introduction to political economy and economics rather than to provide accreditation in the form of a degree or similar. However, if you undertake and complete the course, you can obviously list that you have done so on your resume and we are able to provided verification of your participation and engagement with the subject.
Student feedback: This course has not run previously. However, you can see from my C.V. I have extensive experience teaching in this area. Click here to see the complete set of student feedback forms for SPE's last course offering (SPE101 offered in late 2019).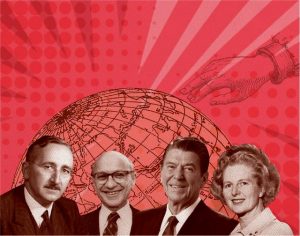 Week 1. NEOLIBERAL CAPITALISM
The design of a neoliberal capitalism is guided by the idea virtually all economic and social problems have a market solution. Whilst it may be conceded that markets are not always perfect, any alternative to markets is usually seen as worse. Such an idea supports privatisation of state companies, public services, loosened private sector regulation, the elimination of 'dependency cultures' through changes to welfare and taxation systems. It also favours the introduction of market mimicking arrangements to those areas where the introduction of actual markets is impossible (King and Howard 2008 p.1). We look at neoliberalism as a theoretical system and approximations of neoliberalism in practice in Australia and elsewhere.